Photodynamic therapy (PDT) is a modern, non‑invasive therapeutic method used for the destruction of various cells and tissues. Thanks to its countless benefits available to both the healthcare team and patients, its popularity has been growing over the last few years for pre-cancerous treatments such as Actinic Keratosis.
With any new treatment procedure, understanding it from the offset is paramount to its success. It is why a group of healthcare providers got together to create the Wee Discovery Book of PDT.
The Wee Discovery Book of PDT is written for both patients and healthcare providers. In this article, Carol Goodman introduces the book and shares how it was first imagined, why it is essential, the team behind it and how to access the final publication for free.
What is the Definition of "Wee?"
Scotland is proud of being different, and when you visit, you will hear it immediately in the accent, and the unusual words and expressions Scots use every day.
Some words are easy enough to understand, such as wee, a Scottish word meaning of small size, i.e. this is a "small" book" (1)
Our aim for this book was to ensure that it was accessible to all, and therefore we promised to not waffle on. It is why it's a wee book. Proud Scots also created this book, and we wanted to make that obvious.
Who is behind the "Wee Book"?
The book was created by a large collaborative group of doctors, specialist nurses, clinical technologists, researchers, engineers, biochemists and physicists based at The Scottish Photodynamic Therapy Centre (SPDTC) and Photobiology unit in Ninewells hospital in Dundee.
Other important contributors to this project are teams at the University of Dundee and astronomers and physicists from the University of St Andrews, Scotland. (1,3,4)
How are we funded?
The PDT centre is supported financially by the charity of the Alfred Stewart Trust, NHS Tayside and the Medi-lase charity. The "wee discovery book of PDT" was also awarded a grant by the Science and Technology Facilities Council (STFC). (1,2,3,4,8)
Background to PDT at the Scottish PDT centre.
The centre performs clinical PDT treatments, photo diagnostic (PD) assisted surgical procedures. We also carry out research, development and promote education through academic publications in these subjects. (3,4)
The incidence of non-melanoma skin cancer is increasing due to prolonged exposure to the sun's UV radiation. PDT treatment of these skin cancers is a proven, approved and highly acceptable treatment that is well tolerated and preferred by patients. The centre also offers PDT for specific lung cancers and PD for assisting the surgical resection of malignant brain tumours called Glioblastomas.
The team continually examine ways of improving treatment and accessibility for our patients. To ensure that we are meeting the demands and requests of our patients, we hold regular "feedback" surveys, focus groups and patient consultation meetings.
One of the most important aspects of any treatment is informed consent. Without this, we cannot proceed with any treatment, investigation, or research. Therefore, excellent patient information should result in full understanding and compliance. This is one of the solutions to managing treatments, expectations, and outcomes. (2,3,4)
What are the origins of the book?
In 2019, Dr Luke McLellan PhD, a physicist funded by Medi-lase, was working within the centre and photobiology team. Having been heavily involved in researching patient experiences with daylight PDT (PDT), he realised that there was a gap in the information being offered to them. He began to think about the types of information that was available to those patients receiving PDT/PD or dPDT and to health professionals, especially those in primary care. (2)
It is generally understood that there can be a significant challenge to a patient's understanding of both their health condition and their treatments. This has the potential to impact clinical outcomes and compliance. In 2019, we were considering increasing the number of patients who were performing "at home" skin cancer treatments using dPDT. (2)
The team review and update our patient information annually. These are comprehensive and fit the NHS controls standard for patient information and consent.
Although NHS patient information is excellent, they serve one purpose, which is to enable informed consent.
On the other hand, academic papers (clinical or scientific) on PDT can be very complex and confusing for the average reader or non-specialist.
Dr McLellan observed this gap in the available information. He imagined a unique way to not only educate patients, their families, carers and the public at large but also to create awareness in the medical community making PDT/PD interesting, accessible and fun to explore.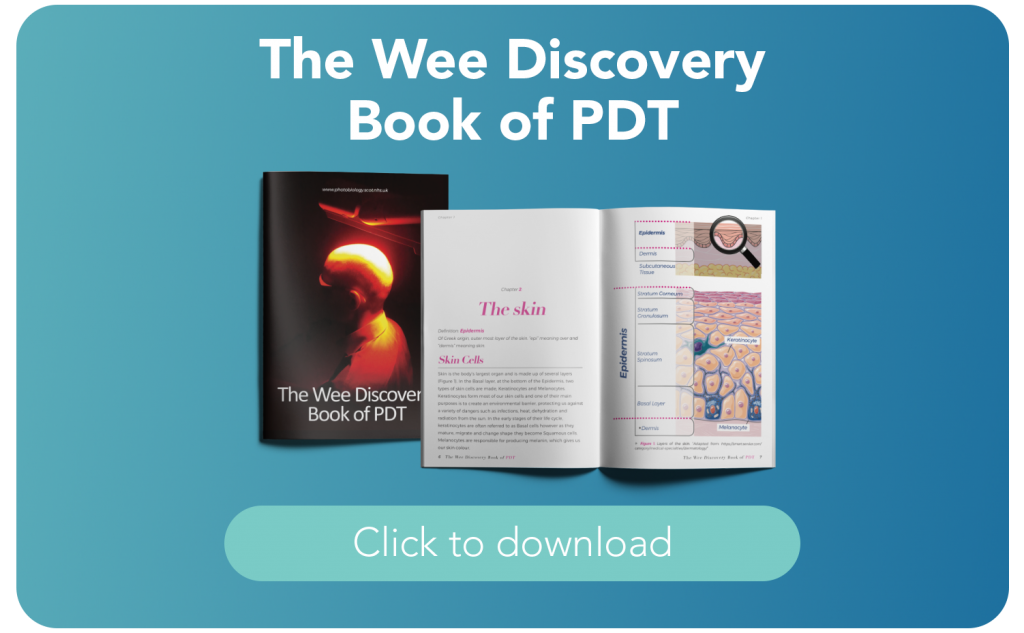 What was the next stage?
Dr McLellan began researching and drafting the Wee Book. After initial comments, with his pencil and trusted post-it notes, he began sketching his original ideas for illustrations and cartoons to tell the story of the science and processes that form the foundation of PDT treatments. Dr Ewan Eadie, a physicist and Head of Scientific Services for Photobiology and Optical Radiation, submitted this idea to be part of an STFC grant and the project was approved, and the grant awarded.
After talking with a number of publishers, we decided to commission local publisher Mr Stuart Cameron to help create the "Wee Book".
It was through Mr Cameron's recommendation that we chose Jim Glenn, a renowned cartoonist, to create the final drawings.
Mr Glenn illustrates the famous "Oor Wullie" cartoons for "the Sunday Post" newspaper printed by the Dundee based family publisher D.C. Thomson.
For many people around the world, his illustrations will particularly resonate, thanks to its instantly recognisable designs, helping to make the Wee Discovery Book of PDT memorable and easily understandable. (7)
The work on the book began in March 2019 with contributing edits by the photobiology and PDT centre team. It was completed in June 2020. "The Wee discovery book of PDT" was born!
What's in the "Wee Book"?
The book contains 52 pages of fascinating information, photographs, delightful illustrations and engaging explanations of PDT, PD and dPDT.
The biology of the skin is described in detail with large clear coloured images. It demonstrates how damage can occur to the skin with long term exposure to ultraviolet radiation from the sun.
We discover the different types of non-melanoma skin cancers by observing images of actual patient cancer and precancerous lesions for reference. The photobiology technician team provided these photographs. The book also informs us of the wide variety of different non-PDT treatments currently available for non-melanoma skin cancers.
PDT is explained clearly using a combination of history, methodology and elements required for effective treatment.
The final chapter informs of the systemic use of PDT/PD in lung, brain, head and neck, prostate. Medac Pharma, who produce the prodrug "Gliolan" for assisting resection of brain tumours, kindly provided excellent photographs of a glioblastoma brain tumour fluorescing (glowing coral pink) prior to the neurosurgeon removing it.  (9)
And finally, the wee book discusses the possible use in cosmetic and aesthetic specialisms, highlighting the diversity of this treatment!
What's the ultimate objective of the "Wee Book"?
We hope the uniqueness of the "Wee Book" will enlighten, educate, and captivate those receiving PDT in any form filling the gap Dr McLellan recognised. Additionally, we also hope that it will arouse the curiosity of clinicians that haven't heard of PDT to incorporate it within their clinics. The book also addresses the importance of accessible and understandable knowledge communicated to the public. We anticipate it will enrich knowledge and understanding of photodynamic therapy and hopefully entertain any interested party along the way.
Where can I access the "Wee book"?
You can access the book for free on the University of Dundee's website by clicking here.

2020 is the year of the COVID 19 pandemic, and this has focussed our drive to increase the number of patients we can treat with dPDT at home, so timely was this publication in its scope and relevance.
Stay safe and well.
Carol R Goodman
(RGN, BSc, DN)
---
Carol R Goodman is a Consultant Nurse Practitioner for the Scottish Photodynamic Therapy Centre (SPDTC), Ninewells Hospital, Dundee
She qualified in 1977 (Glasgow) was a Macmillan Nurse providing holistic cancer care in the specialities of Gynaecology, Hepatobiliary, Urology, Neurosurgery, Respiratory, Gastroenterology, Maxillo- Facial, ENT, and Dermatology.
In 1986 she joined Pilkington Medical Systems as a research nurse for laser development in clinical practice, including aesthetics, Photodynamic Therapy and diagnostics.
She joined the SPDTC team in 2000 to facilitate multidisciplinary PDT and photo-diagnosis. She provides PDT clinical treatment, with the Photobiology technicians, for non-melanoma skin cancers and daylight PDT for Actinic Keratosis.
References